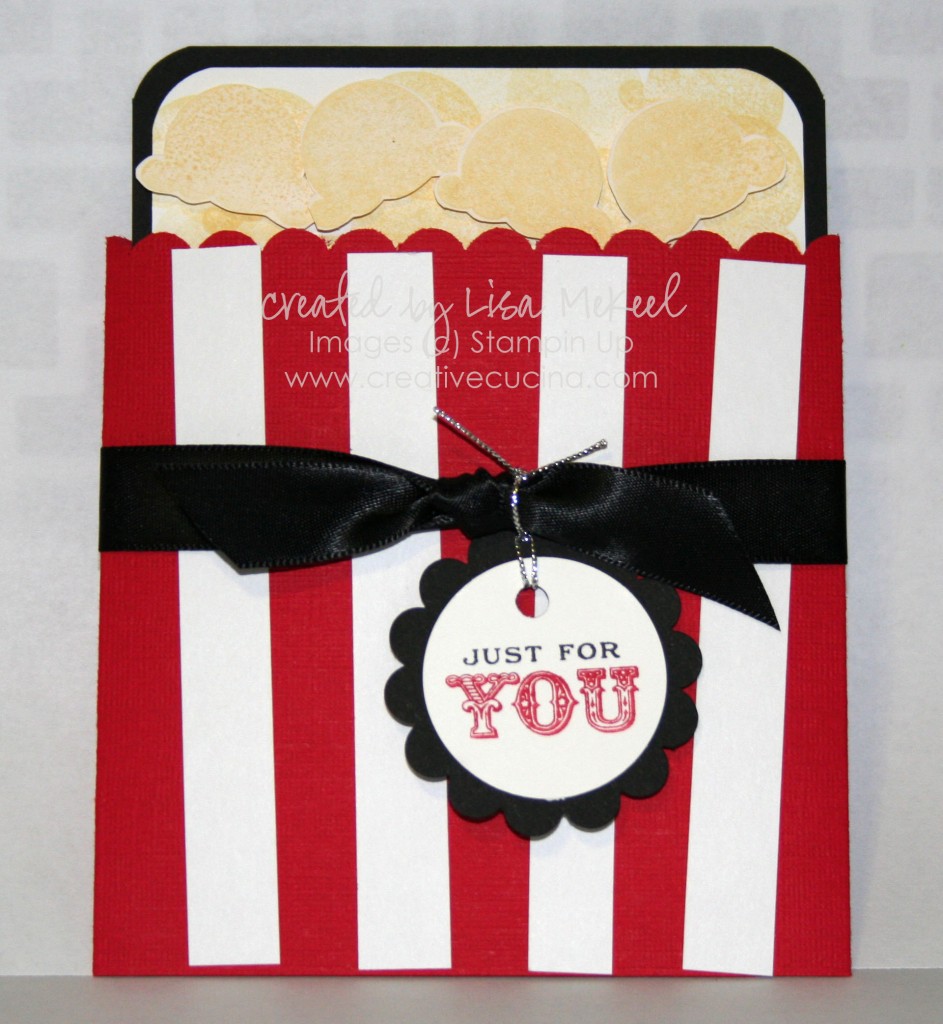 I started out making a card to put in a movie basket–a basket with popcorn, movie style candy, and tickets from the local movie theater. Thinking about movies, I came up with the Popcorn Basket idea. This is a variation on the Slide Out Gift Card Holder.
Popcorn Basket Card
Cut Real Red card stock to 4 1/2″ x 12″ and score along the long edge at 4″ and 8 1/4″.
Using the Scallop Edge Punch, punch along the top of the real red card stock.
Apply Sticky Strip along the bottom of the center panel and fold the right side over the center panel. Then, put Sticky Strip on the left panel, along the bottom and the left edge. Fold over and stick.
Cut 4 strips of Whisper White card stock to 1 1/4″ x 4″ and using SNAIL, adhere them to the front of the card, evenly spaced.
For the insert, cut a piece of black card stock to 4″ x 5″ and round the top corners with the Corner Rounder Punch. Cut Whisper White card stock to 3 3/4″ x 4 3/4″ and round the top corners again.
Adhere the White to the Black card stock and using the Slit Punch, punch approximately 1″ from the bottom. This slit will hold the movie tickets.
Stamp the ice cream scoop from Sweet Scoops all over the White card stock with So Saffron ink. Stamp directly on the card stock, then two more times before reinking. Keep stamping like this, in a random pattern.
Stamp 4 scoops onto scrap Whisper White or Very Vanilla, stamping off each time (to get a lighter color). Trim each one out and attach them to the top of the insert piece using Stampin Dimensionals.
Stamp a sentiment on the insert, if desired.
Tie Black Satin Ribbon around the card and make a knot.
Stamp "Just for You" from Oval All in Black and Red Marker on Whisper White. Punch out with 1 3/8″ Circle Punch and layer onto Black Scallop Circle Punch out.