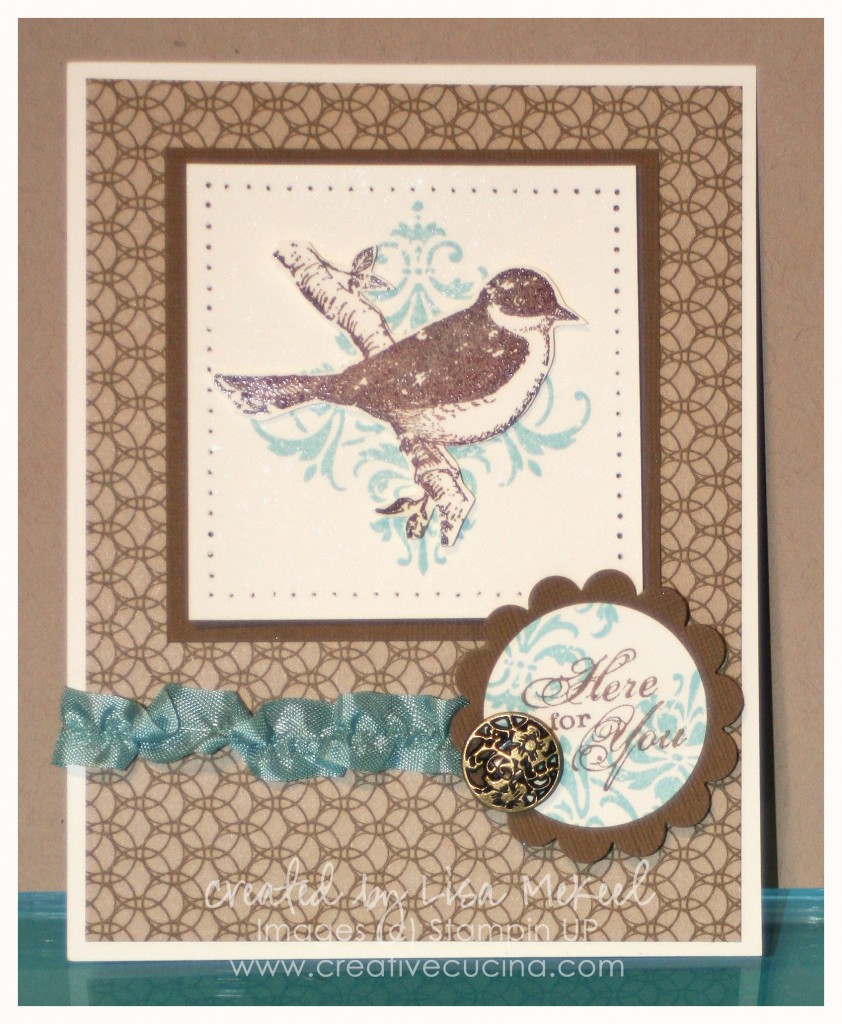 This card is not my usual style, but I wanted an excuse to try the Ribbon Scrunching technique using Baja Breeze Seam Binding.
To scrunch the ribbon like this, you take one end of a length of ribbon and pull at it to loosen the fibers running the short way. Then, you grab one of the fibers that run lengthwise and pull. The ribbon will scrunch up as you pull, giving you a beautiful ruffle effect.
In my opinion, this ruffled ribbon has a very vintage-y look so I made a card using the vintage styled Friends 24-7 stamp set. I stamped the bird with Soft Suede ink on Very Vanilla card stock, cutting it out with scissors. I also sprayed Shimmer Mist (Frost Shimmer paint mixed with 70% rubbing alcohol in a spray bottle) onto the bird.
Behind the bird, I stamped the flourish image, also from Friends 24-7 in Baja Breeze ink on Very Vanilla card stock. I sprayed it with the Shimmer Mist also and Paper Pierced around the edges. That is matted onto a 3″ square of Soft Suede Textured card stock with stampin dimensionals.
The base is Very Vanilla, layered with Elegant Soiree DSP in this Soft Suede circular pattern. I attached the ribbon to the front of the card using Mini Glue Dots.
For the sentiment, I stamped it in Soft Suede ink on Very Vanilla. I also stamped the flourish type image in Baja Breeze ink in the background, then punched it out with 1 3/8″ Circle Punch. I layered that onto Soft Suede punched with the Scallop Circle Punch. An Antique Brad was added to the scallop circle and it's adhered to the base with stampin dimensionals.