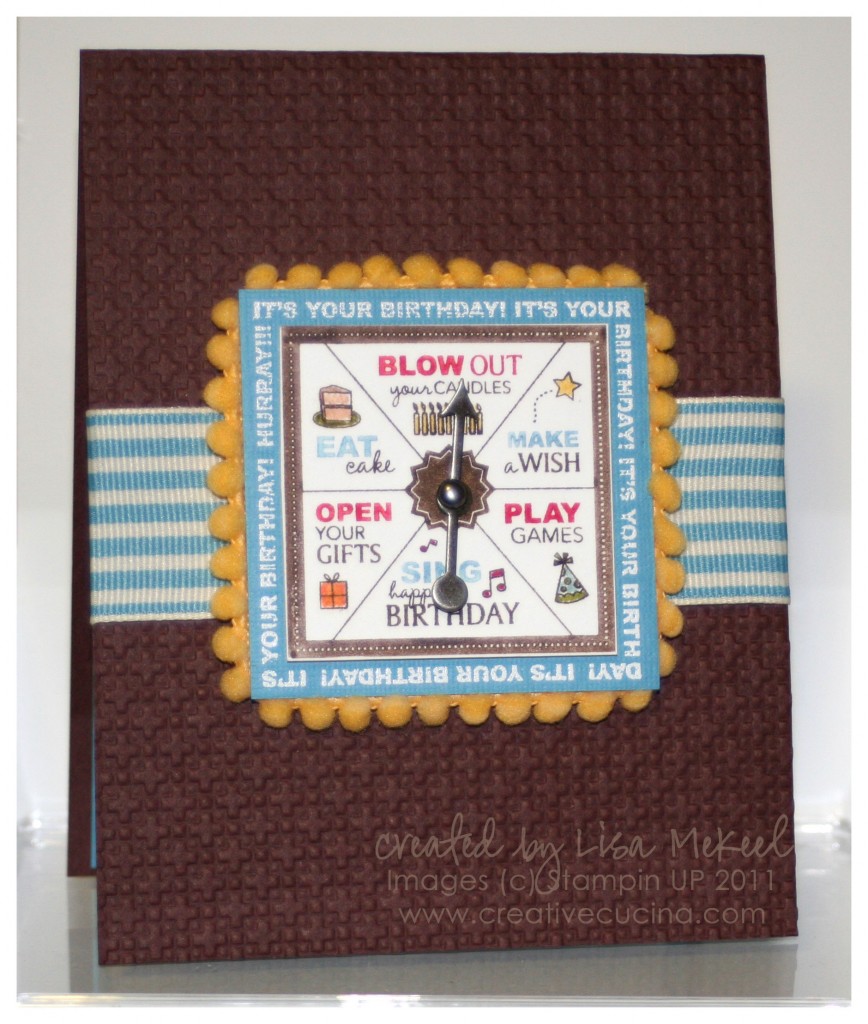 Well, Birthday season in my family has officially begun. It starts off slowly in February, then gets CRAZY in March (8 birthdays in the month of March alone) and then every month thereafter. I guess I"ll be making a lot of birthday cards!
This Take a Spin stamp set is a lot of fun. I went to town coloring in all the images with my SU Markers, both directly onto the stamp and then filling in some of the images after it was stamped.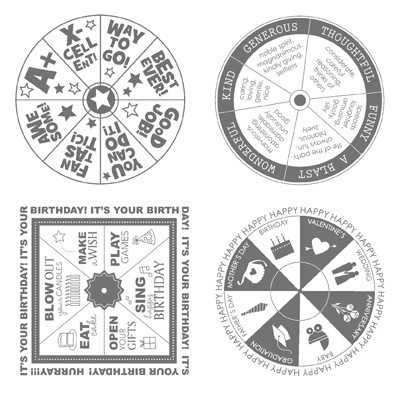 There are 4 different stamps in the set, and the Game Spinner Hands are sold separately in a set of 12.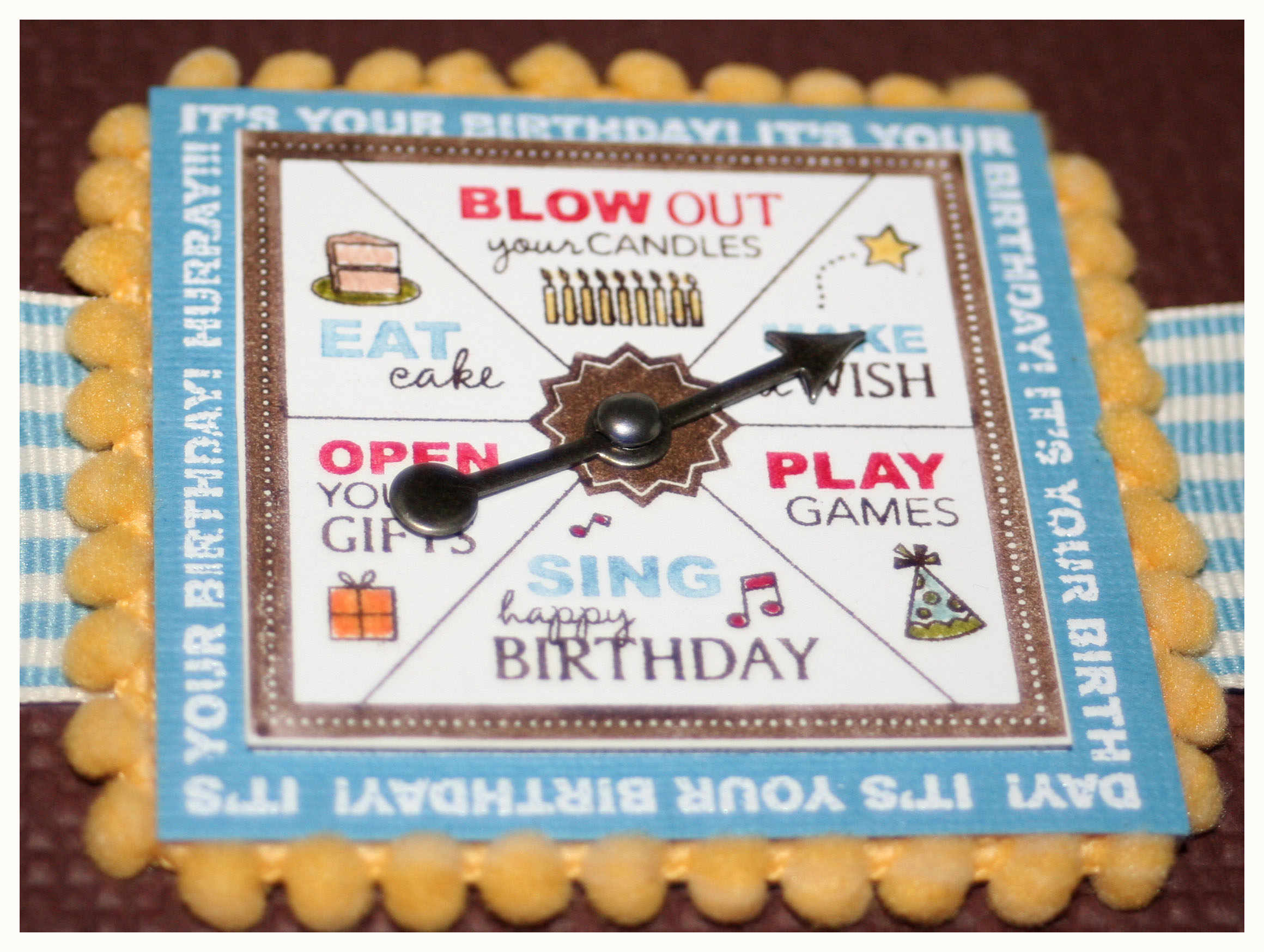 As you can see from the close up above, I colored the majority of the stamp with Chocolate Chip Marker, (direct to stamp)  using Real Red, Daffodil Delight, Pumpkin Pie, and Marina Mist as accent colors. Then, I stamped onto Whisper White card stock and trimmed around the game board.
Next, I stamped the image a second time, with White Craft ink onto Marina Mist card stock, heat embossing with White Embossing Powder.
Using the cropadile, I punched a hole in the center of the game board and attached the Game Spinner Hand.  Then, I adhered that piece to the Marina Mist card stock using stampin dimensionals. TIP: If you just slightly bend the ends of the Spinner Hands upward it will spin easily.
My new favorite thing, Daffodil Delight Pom Pom Trim, was glued around the Marina Mist card stock with Tombow Mono Multi. I added a square of card stock behind this piece with stampin dimensionals for added stability so the game board wouldn't cave in when you touch the spinner.
The card base is Chocolate Chip, which I ran through the Big Shot with the Square Lattice Embossing Folder. The ribbon is 1 1/4″ Striped Grosgrain in Marina Mist.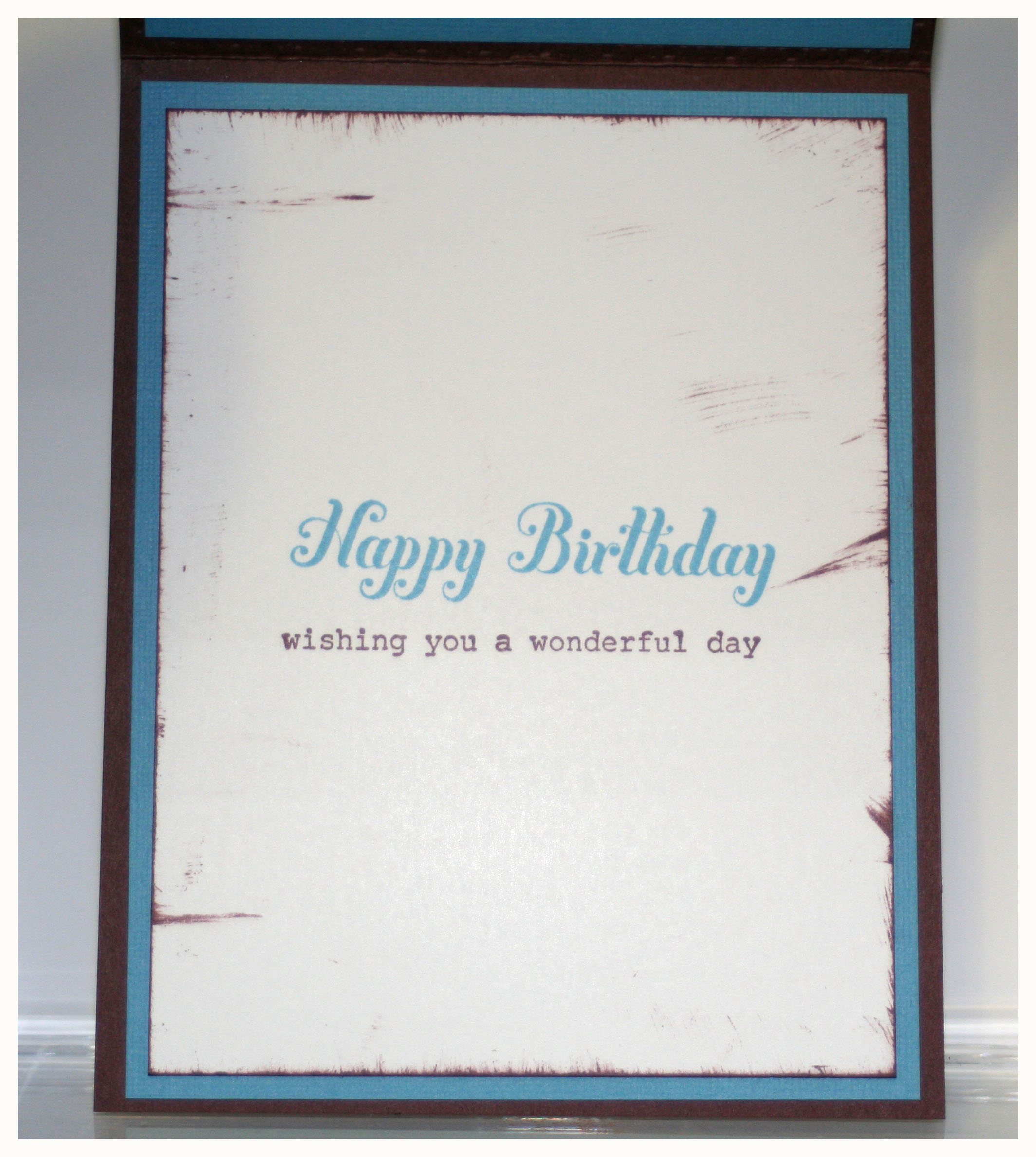 Inside, I lined the card with Marina Mist and Whisper White card stock. I swiped the edges of the White in Chocolate Chip ink and stamped 2 sentiments from Bring on the Cake.