I really love carrot cake. The denser the better. And it has to have coconut–an absolute must. I started to bake this very late last night–just before 11 pm. The next day, I was reading another blog (SeriousEats.com) and came across an article titled "Are You a Night Baker?" and it made me laugh because I have always done my baking late at night. It probably started out as a means of relaxing after doing hours of reading and writing in law school. The house was quiet, my husband (fiancee at the time) was asleep; it really was therapeutic. Our neighbors must have either really loved me or really hated me for filling the air with the smell of brownies, butter cookies, and cake at 2am!
This recipe turned out great. I did use pre-shredded carrots (I know, I know) but I didn't feel like lugging out the food processor, shredding blade, etc. when I had a bag of them ready to go staring at me in the fridge! I hope you'll forgive me!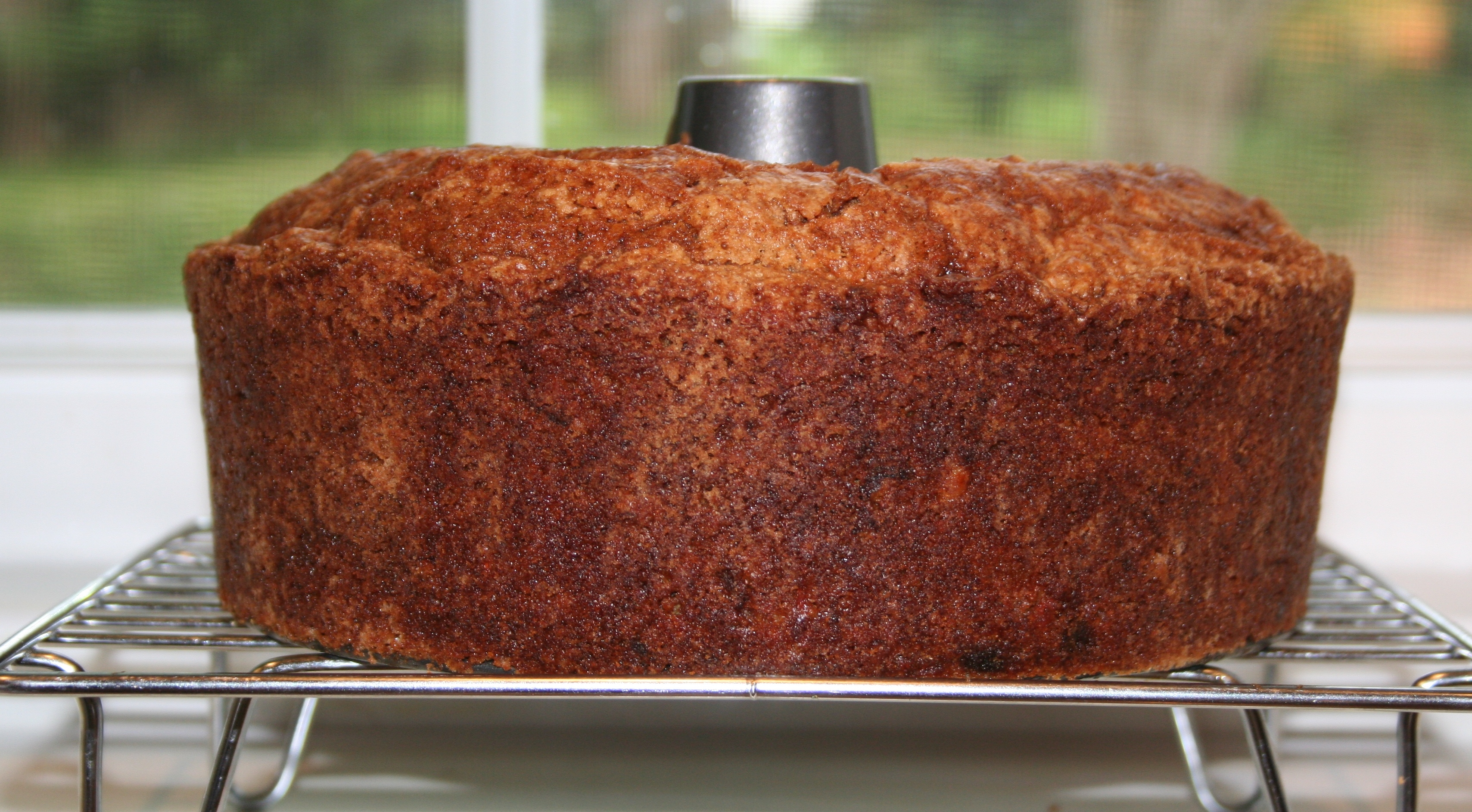 Recipe for Fall's First Carrot Cake
(See the leaves turning colors outside my window?)
2 cups flour

2 teaspoons baking powder

1 1/2 teaspoons baking soda

1/2 teaspoon salt

2 teaspoons cinnamon

4 eggs

1 1/2 cups vegetable oil

2 cups sugar

1 teaspoon vanilla extract


3 cups shredded carrots (pre-shredded works fine)

1 8 oz. can crushed pineapple, drained

1 cup chopped walnuts

1 cup flaked coconut
Directions:
Preheat oven to 350 degrees. Spray or grease a 9″ Tube pan. A deep Bundt pan will work also.
1. Mix eggs, sugar, vegetable oil, and vanilla extract in a stand mixer with paddle attachment. Beat until well combined.
2. In a small bowl, sift all dry ingredients (flour, baking powder, baking soda, salt, and cinnamon) together using a whisk until blended.
3. Add dry ingredients to wet mix and beat until incorporated.
4. Add shredded carrots, crushed pineapple, coconut, and chopped walnuts to the batter. Beat to combine.
5. Pour cake batter into the prepared pan and bake for 1 hour to 1 hour 15 minutes. Test with a wooden skewer (moist crumbs are what you're looking for) and the cake will spring back slightly when touched.
6. Allow to cool in pan for 20 minutes, then remove the outside ring of the tube pan (if using) and let the cake rest on a rack until completely cool.
Enjoy!