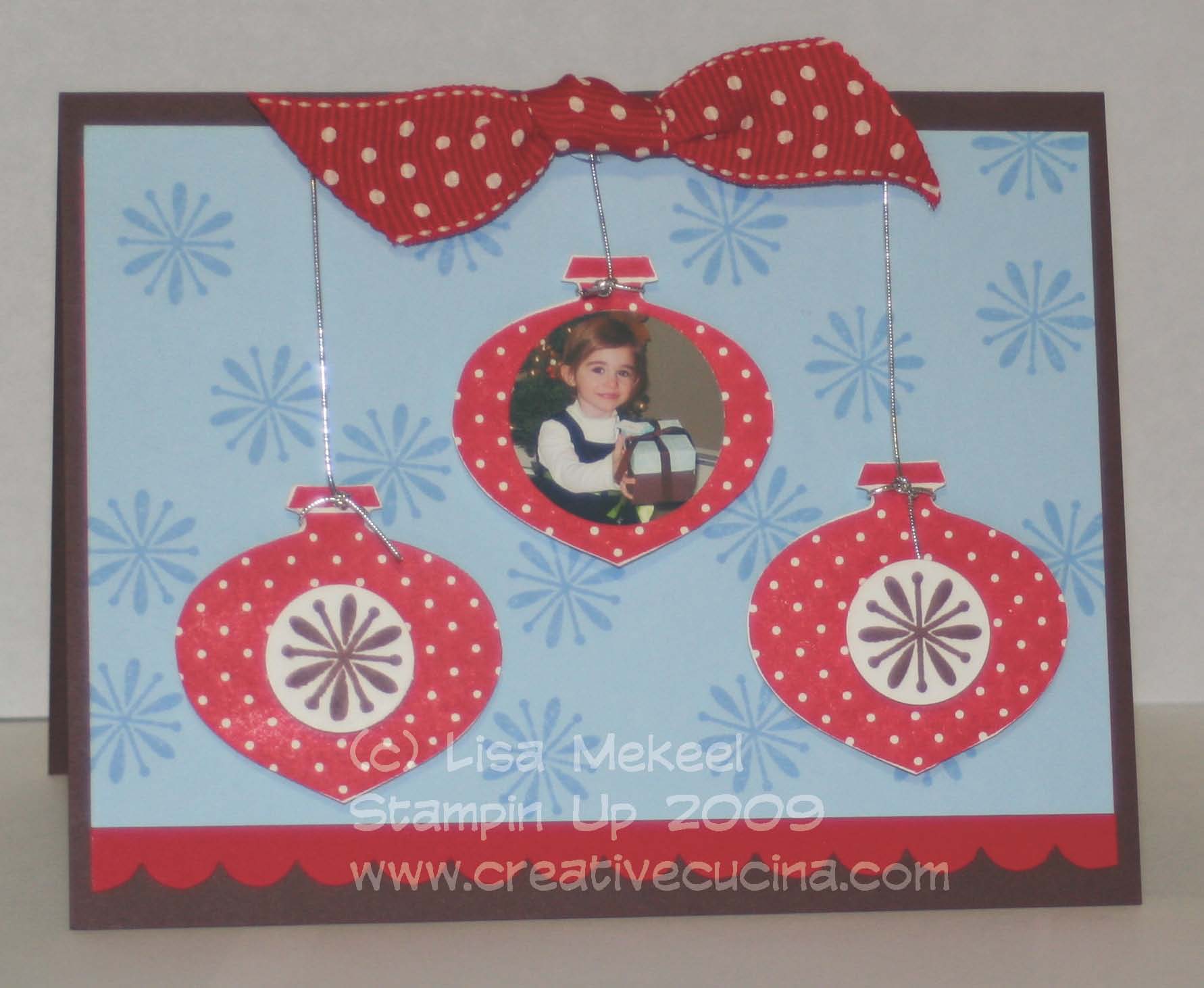 I could kick myself for taking the Ornament Punch off my last order. I knew I was going to see awesome projects with it and love it but I still decided to take it off the list for reasons unknown to me now. So, I cut these out myself by hand like a crazy person. I'm ordering it as soon as I can!
Card base is Chocolate chip layered with Real Red that I used the Scallop Edge Punch along the bottom, with a piece of Bashful Blue card stock on top. I stamped the snowflake stamp from Delightful Decorations all over the blue in Bashful Blue ink.
I stamped the polka dotted ornaments, also from Delightful Decorations in Riding Hood Red ink on Whisper White (my Real Red ink is shot–goopy and weird–I need to order another one of those asap too). I cut out the ornaments and tied a piece of Silver Elastic Cord to the tops. Then, I stamped the snowflake stamp from the set in Chocolate Chip ink onto whisper white and cut them out using the 3/4″ Circle Punch, attaching them to the front of the ornaments with dimensionals.
The right and left ornaments are adhered to the base using dimensionals, with the elastic cord taped on the back of the Bashful Blue layer. As for the middle one, I punched out a circle using 7/8″ Circle Punch and added tiny pieces of dimensionals to the sides of the ornament to adhere it to the base. The photo was also punched out using the 7/8″ Circle Punch and adhered with a dimensional. But you could just as easily attach the photo to the front of the ornament and do away with punching circles. Or your could recess the picture, which is what I think I wanted to do at first but ended up putting a dimensional on the back of the picture by accident so I went with it.
Finally, I tied a knot using a short piece of Real Red Polka Dot Grosgrain Ribbon and adhered it to the top of the card using a glue dot.
On an unrelated note: this picture of my daughter was taken last year–I can't believe how big she has gotten! I almost cried!! She's not a baby anymore!