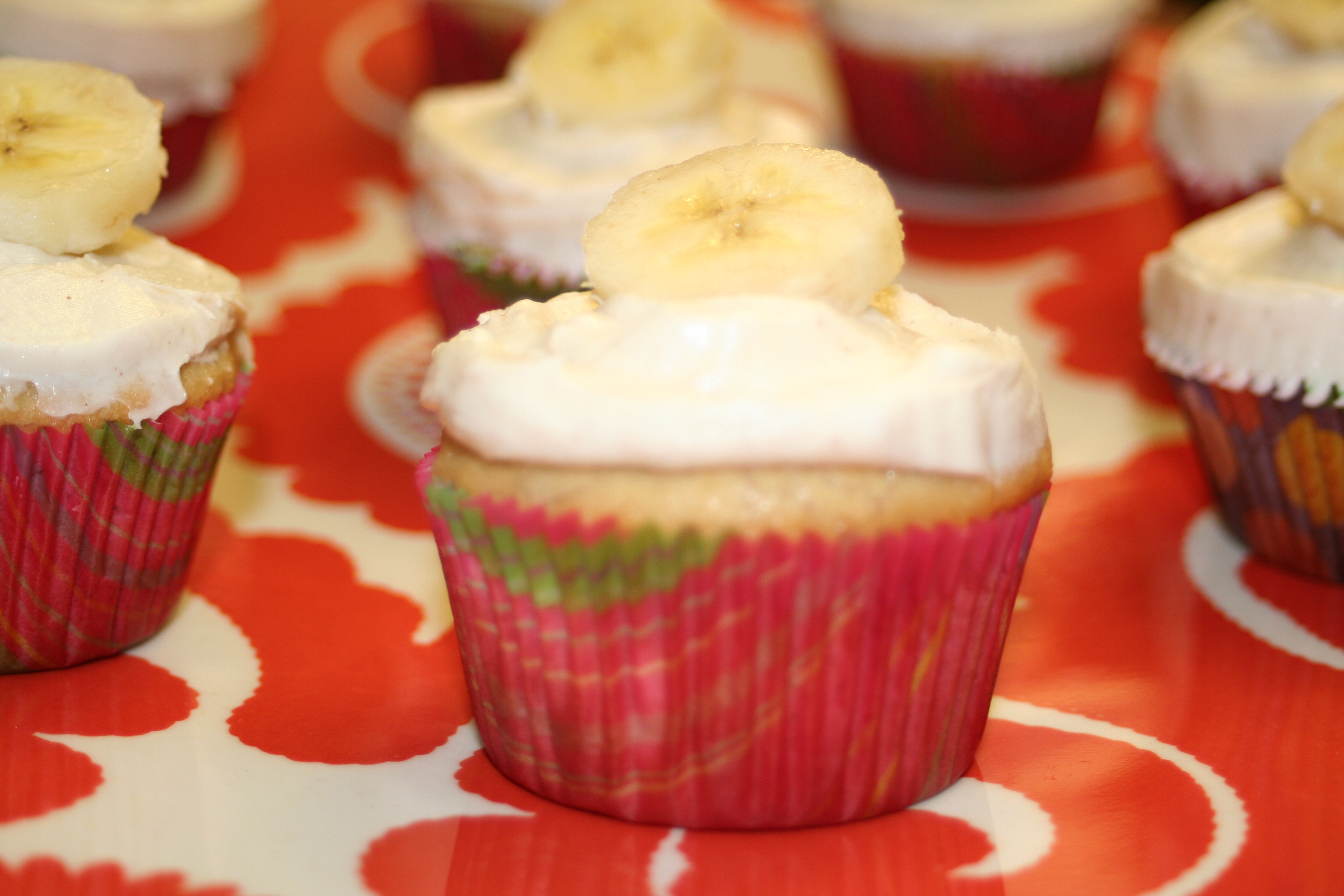 Yes, the name alone is delicious. The recipe is from Martha Stewart's Cupcakes Book. I had some bananas and instead of making the old banana bread recipe (which is great nonetheless) I opted for something new.
The recipe worked out great for me, even though my egg whites deflated while waiting for the roasted bananas to cool (poor planning on my part). And if you've never roasted bananas in their skin, they will get BLACK but the banana inside gets so sweet and concentrated. It REALLY made a difference in the recipe. Oh and the frosting–to die for! Different than the usual buttercream, it really makes these cupcakes stand out.
Ingredients
3 ripe bananas, plus 1 to 2 more for garnish
2 cups cake flour (not self-rising), sifted
1/2 teaspoon baking soda
1/2 teaspoon baking powder
3/4 teaspoon salt
1/2 cup (1 stick) unsalted butter, room temperature
3/4 cup sugar
3 large eggs, separated
1/2 cup sour cream
1 teaspoon pure vanilla extract
1. Preheat oven to 400 degrees F. Line standard muffin tins with paper liners. Place 3 whole unpeeled bananas on a baking sheet and roast 15 minutes (the peels will darken). Meanwhile, sift together cake flour, baking soda, baking powder, and salt. Remove bananas from oven and let cool before peeling. Reduce oven temperature to 350 degrees F.
2. With an electric mixer on medium–high speed, cream butter and sugar until pale and fluffy. Add egg yolks, one at a time, beating until each is incorporated, scraping down sides of bowl as needed. Add roasted bananas, and beat to combine. Add flour mixture in three batches, alternating with two additions of sour cream, and beating until just combined after each. Beat in vanilla.
3. In another mixing bowl, with electric mixer on medium speed, whisk egg whites to soft peaks; fold one-third whites into batter to lighten. Gently fold in remaining whites in two batches.
4. Divide batter evenly among lined cups, filling each 3/4 full. Bake, rotating tins halfway through, until a cake tester inserted in centers comes out clean, about 20 minutes. Transfer tins to wire racks to cool completely. Cupcakes can be stored up to 3 days at room temperature, or frozen up to 2 months, in airtight containers.