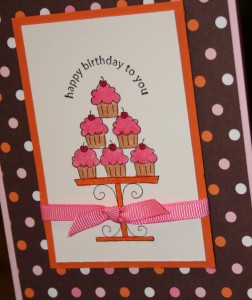 One of the new sets, Crazy for Cupcakes from SU, I've been dying to use. I've got quite a few birthdays coming up in October so I'm getting a head start on my cards now. This is a great set to use markers, watecolor crayons, or pencils. I did try watercoloring with the brush on watercolor paper but it ran a little into each cupcake, maybe because the images are so small? Anyway, these are the samples that were good enough to make the blog.
Left: Stamps: Crazy for Cupcakes; Cardstock: Pink Pirouette, Sweet Always DSP, Pumpkin Pie, Watercolor paper; Ink: Black Stazon, Markers: Regal Rose, Creamy Caramel, Pumpkin Pie, Real Red; Accessories: Regal Rose 1/4″ grosgrain, Scallop Edge Punch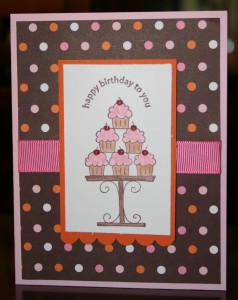 Left: Same supplies as above except regal rose 5/8″ grosgrain, whisper white cardstock, and pretty in pink marker. Cherries are popped with a tiny Rain Dot, but you could also use Crystal Effects to achieve the same look.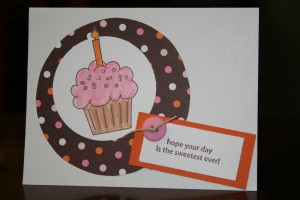 Left: I was going for a more minimalist look here. I played around with putting a piece of pink cardstock behind the big circle but I think this way looks better. This is another image from Crazy for Cupcakes. For the largest circle I actually traced a spool of ribbon and cut it out myself. The white circle is the pink Marvy circle punch. The flame to the candle is actually cut out and popped up on a small glue dot because it was cut off when I punched out the circle. I'm finally using my buttons lately. Now that I started I can't seem to stop. Oh and I used Dazzling Diamonds on the cupcake's sprinkles.