I've placed a couple of small orders from the new SU catalog and while I have more coming (hopefully) I've been working like crazy with what I have. I really wanted Upsy Daisy and I got it. I also love Heard from the Heart–a very versatile set that I use a lot (probably too much).
This is what I've been up to so far:
Eastern Blooms: Stamps: Eastern Blooms; Cardstock: Pacific Point, Riding Hood Red, Whisper White; Ink: RHR, Tangerine Tango, Kiwi Kiss, Baja Breeze; Accessories: Swiss Dot Cuttlebug embossing folder, rain dots.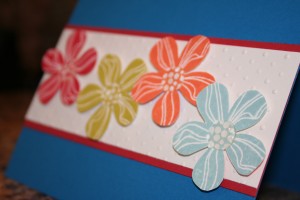 Close up of the rain dots on centers of blooms.
Upsy Daisy Cards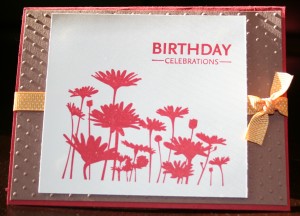 Stamps: Upsy Daisy; Cardstock: RHR, Close to Cocoa, Whisper White; Ink: RHR; Accessories: Swiss Dot Cuttlebug embossing folder, Ribbon (Non-SU)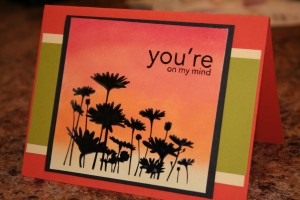 Stamps: Upsy Daisy; Cardstock: Tangerine Tango, Basic Black, Barely Banana, Kiwi Kiss, Glossy White; Ink: Black Staz-On, RHR, Tangerine Tango, So Saffron; Accessories: Sponging