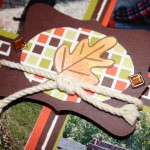 Our yearly trip to the farm for pumpkin picking is fast becoming a family tradition for us, as is my scrapbook page memorializing the outing. I was so happy with last year's page I was worried I would have to keep outdoing myself year after year. Part of the fun in making the scrapbook pages comes from the memories of the day. Ella loves being outside and picking up leaves, rocks, and pumpkins "ugh too heavy" she says. Fall is my favorite season; I love the colors, the leaves, and the crisp weather. I love making comfort foods associated with the cooler weather, and I especially love Thanksgiving. It's my favorite holiday because of all the yummy foods and desserts that go along with it!
When I started out making these pages, I thought to use the Autumn Vines DSP because (a) I'm addicted to it and (b) it's perfect for the season. But for some reason, it was NOT working. So I decided to go to Plan B–Hawaii Papaya. I LOVE this DSP: the colors, patterns, everything about it. And whadda you know, it worked for me! This is Layout 10 and 10a (See Scrapbook Layouts)
Supplies: Cardstock: SU Hawaii Papaya DSP, Kiwi Kiss, Tangerine Tango, chocolate chip, whisper white; Ink: Versamark, chocolate chip, kiwi kiss, tangerine tango; Stamps: Fall Flair (Hostess Level 2 Set); Accessories: SU Jumbo pewter eyelets, rope twine, dimensionals, coluzzle, sponge, Bazzil chips chipboard, SU square rhinestone brads, non SU 3D letters.