I finally got around to scrapbooking my daughter's 2nd birthday (August 31st). Yay! I'm not so behind anymore. Nevermind I still have to do last Christmas, that's not the point! When I got the Sweet Always DSP in my last order I loved the polka dot papers! I am obsessed with polka dots and circles. Originally my daughter had a polka dot dress to wear for her birthday but I ended up having to return it because it was too big on her.
Anyway, these pages are based on Layout 9 and 9a (See Scrapbook Layouts). I'm very happy with the way they turned out. I tried my best to photograph it, but it's almost dinner time and pouring rain here, so the lighting/flash/etc just was not cooperating with me.
The sweet always polka dot dsp was cut to 11″x11″ and the regal rose is just a full 8 1/2″ x 11″ sheet of cardstock.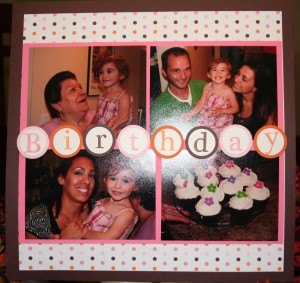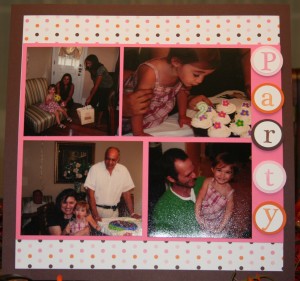 All imgaes (c) Stampin Up 1998-2008
Supplies: Cardstock: Chocolate chip, Sweet always DSP, Regal Rose, Pumpkin Pie, Pink Pirouette, Whisper White; Stamps: Defining Alphabet; Ink: Markers (Regal Rose, Chocolate chip, Pumpkin Pie); Accessories: 1 3/8″ circle punch, 1 1/8″ circle punch