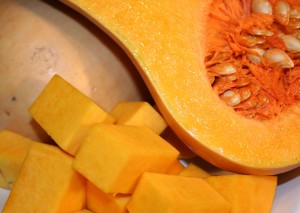 After a trip to a local farm two weeks ago, I was inspired by all the pumpkins and squash available. I love butternut squash especially and I'm always looking for new ways to prepare it. One of the best ways to prepare butternut squash is to roast it simply with olive oil and shallots (roasting, in my opinion, is the only way to cook the squash without it falling apart). I found so many inspiring recipes in the October issue of Everyday Food magazine (my new favorite) that I had to try some. They were big hits with my family! Some of my favorites: Rigatoni with Roasted Pumpkin, Sage & Goat Cheese in which I substituted roasted butternut squash–Delicious! 
After making a huge bowl of pasta (enough to serve 4 hungry or 6 normal portions), it was one squash down, one to go. So for the next recipe, I tried the Butternut Squash Lasagna from Martha Stewart. It was heaven but I did make a few changes only because I wanted to use up what I had on hand.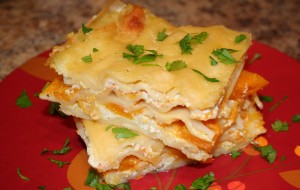 I made macaroni & cheese earlier in the week and had left over cheese sauce (butter & flour whisked for a minute over medium heat, add milk. Whisk until milk boils/thickens. Remove from heat, add shredded cheese, salt & pepper, etc.) I layered the no boil lasagna noodles (I wasn't feeling that industrious that I would make my own pasta noodles now) with the cheese sauce, ricotta mixture from the recipe, butternut squash mixture from the recipe, and grated parmesan cheese. Repeat 2 times. Bake for 35 mins and that's it. A delicious and satisfying dinner with no meat. We're not vegetarians but I made a vegetarian meal by accident. I paired it with a salad of greens, thinly sliced apple, toasted walnuts, goat cheese, and a balsamic vinaigrette.