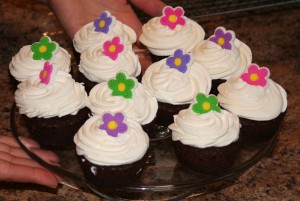 I recently made cupcakes for my daughter's 2nd birthday party.  I had decided on two criteria: (1) they had to be cupcakes, and (2) they had to be chocolate (her favorite). I searched for recipes online via various cupcake blogs. The two best I came across were www.cupcakeblog.com and www.cupcakeproject.com
I salivated while reading cupcakeblog. The pictures were fabulous, the recipes were outrageous. Most, however, were too much for a two year old's palette. Note to self: Check back for recipe ideas come my birthday next year.  Her chocolate recipes, however, looked like winners. To be sure, one of her recipes was featured on cupcakeproject with slight modifications. Check out the link here http://www.cupcakeproject.com/2008/02/better-than-sex-cupcakes-chocolate.html
The directions state not to overfill your cupcake liner, filling it 2/3 or 1/2 way. I went with something in between these measurements and got exactly 16 cupcakes. I should also mention I tried using liners (regular paper ones) and no liners (cooking spray greased cupcake pans). I recommend going without the liners. The cupcakes stick to the paper and get ripped up when you try to peel the paper away. I had no problems with sticking when I skipped the liners, they all came out beautifully.
******************************************************************
Makes 16 regular cupcakes.
1/2 cup (1 stick) butter, room temperature
1-1/4 cups sugar
2 large eggs, room temperature
3/4 cup flour
1/2 teaspoon baking powder
1/4 teaspoon baking soda
1/4 teaspoon salt
1/2 cup unsweetened cocoa powder
1/2 cup milk
1 teaspoons vanilla
2/3 cup mini semi-sweet chocolate chips
Beat butter until softened. Add sugar and beat until light and fluffy, about 3 minutes. Add eggs, one at a time, beating until well combined. Measure the flour, baking powder, baking soda, salt, and cocoa powder into a small sized bowl and whisk to combine. Measure out the milk and vanilla and stir to combine. Add about a third of the dry ingredients to the butter/sugar and beat to combine. Add about a half of the milk/vanilla and beat to combine. Continue adding, alternating between dry and wet and finishing with the dry. Stir in chocolate chips. Scoop batter into cupcake cups about 1/2 full. Bake at 350 degrees for 22-25 minutes or until a cake tester comes out clean.
*****************************************************************
I just made the basic cupcake–no mousse filling, no ganache frosting. These were for a 2 year old mind you. I'm sure the recipe would have been great as written but I didn't have the time, nor did I feel it was necessary to go the extra mile given the occasion and my audience.
In my quest to find the perfect chocolate cake recipe, I tried several, but this was by far the best. For this recipe, I got my hands on Valrhona cocoa powder (as was suggested in cupcakeblog). Result: OMG. A++ Best chocolate cupcake I've ever had. Reminded me of a lighter brownie. Rich chocolate taste, very moist, a little dense (but in a good way) yet still airy and cake-like. It was just delicious. I served mine with a sweetened homemade whipped cream. I added confectioners sugar (I didn't measure anything), heavy cream, and a bit of Massey Vanilla Extract. Heaven.
My best comment: "Those are the best cupcakes this side of Yonkers has ever seen." Thanks Kris 🙂