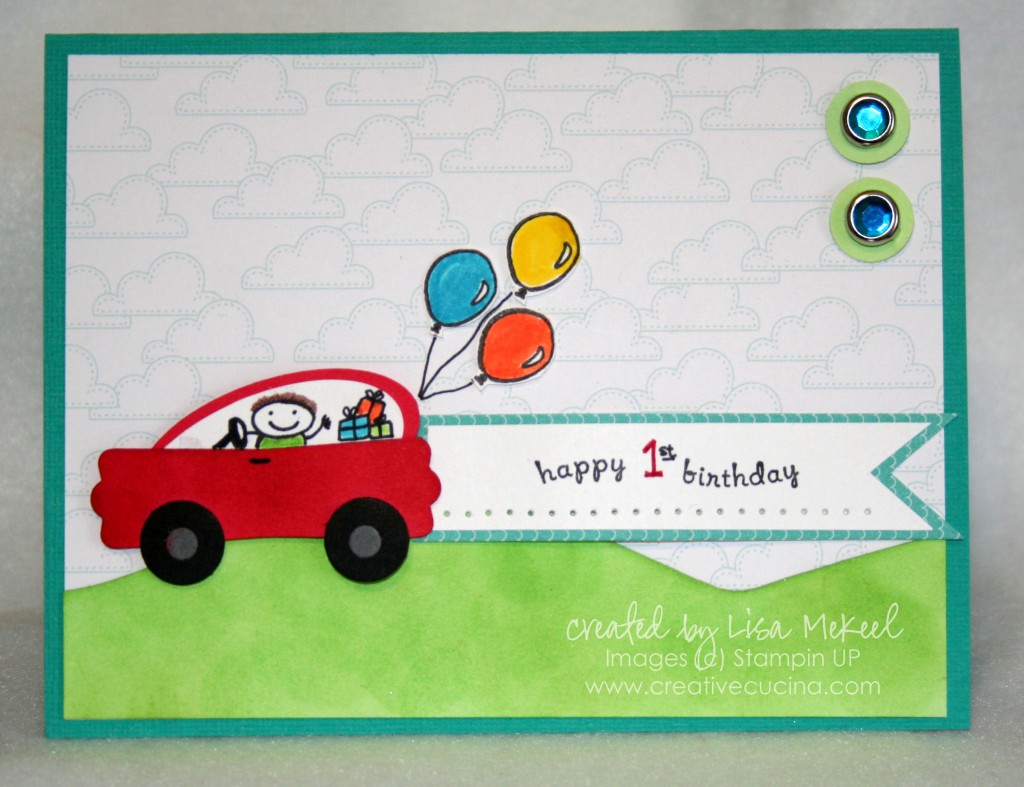 This card is for my nephew's 1st Birthday, and although it's not very babyish, it does fit the theme of his party (and the cake I'm making for him).
The card base is Bemuda Bay textured card stock, layered with the cloud patterned paper from Welcome Neighbor.  (Yes, I know, I use this paper on almost everything I make, but it's so varied and I love the colors so much that I find myself reaching for it time and time again.)
I made the hills by freehand cutting Gable Green card stock, and then sponged them all over using Gable Green ink and a Sponge Dauber.
The sentiment is from On Your Birthday, which I inked up using the Basic Black Marker (leaving out the "o" in this "Happy O' Birthday"–I'm not even sure what that means anyway!) I drew in "1st" using Real Red Marker and Basic Black Marker. The Whisper White card stock is layered on yet another piece of Welcome Neighbor DSP, and I notched the edges to make it look like a flag or banner. I also Paper Pierced along the bottom edge of the sentiment and attached it to the card using Stampin Dimensionals.
As for the little red Punch Art Car, I made it using the Modern Label Punch for the body of the car and the Large Oval Punch for the window/hood.
First, I punched out Real Red card stock with the Modern Label Punch and sponged it with Real Red ink.
Then, I punched two Large Ovals–one from Real Red, one from Whisper White. I layered the White on top of the Red, leaving a Red border, and then trimmed the bottoms so they would not stick out past the bottom of the "car". Adhere the White Oval to the Red Oval.
Using SNAIL adhesive, attach the hood of the car to the back of the Modern Label Punch out, positioning it as shown.
Draw or stamp a little person driving the car. I also drew some gifts in the back seat and added a door handle.
Make tires for the car using the 1/4″ Circle Punch (in Basic Black) and the Cropadile's larger hole punch (in Basic Gray). Attach the tires to the car with SNAIL Adhesive.
That was pretty easy! Now, I adhered the car to the base using Stampin Dimensionals and stamped some balloons from the All in the Family Accessories set onto Whisper White. I colored them in with Markers, cut them out, and attached them to the card base with Mini Glue Dots. Then, I used the Basic Black Marker to draw strings from the balloons to the back of the car.
Finally, in the upper right corner, I added 1/4″ Circles of Gable Green card stock with Ice Circle Rhinestone Brads in the darker blue to tie all the colors together.