This page utilizes Layout 1 (see Scrapbook Layouts). I found these letter stickers or "thickers" at AC Moore. They inspired the colors for the page. An unexpected thing happened when trying to assemble the photos–I noticed that the ticket corner punch looks great when the squares touch like this. I'm so easily amazed!
Supplies: Cardstock: SU River Rock & Groovy Guava DSP, Groovy Guava, Close to Cocoa; Accessories: Ticket corner punch, Thickers foam stickers.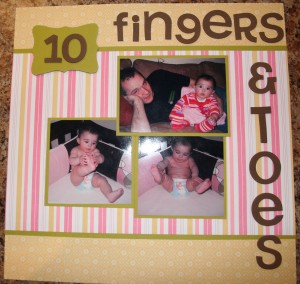 Continuing on the theme of toes, I came up with this page. It uses Layout 2 (see Scrapbook Layouts). I came across these Bazzil chipboard tags and since I LOVE the SU Top Note die, I couldn't resist these! I covered it with Kiwi Kiss cardstock and sanded down the edges. The DSP, I think is from Georgia Peach, but it could be from Sweet Always–sorry my paper got mixed up and I can't keep them straight anymore.
Supplies: Cardstock: Georgia Peach DSP, Sweet Always DSP, Kiwi Kiss; Accessories: Thickers foam stickers.