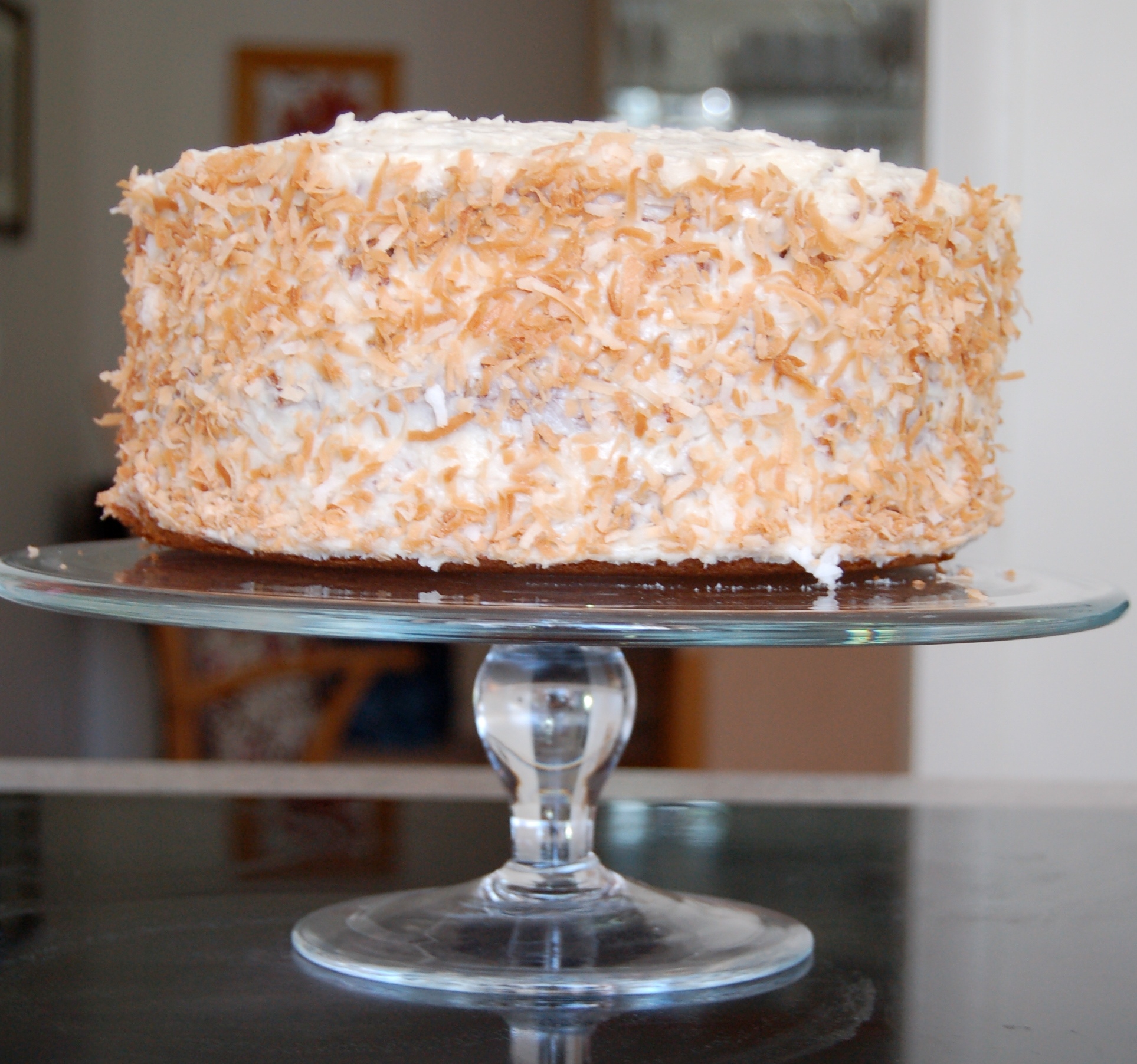 Yes this was my birthday cake and YES it was GOOD! I got the recipe here (great site) but you can also find the recipe below. One word of caution–this recipe makes a HUGE 3 layer cake. Make sure you have a lot of people around to eat it! I can't be trusted around this cake so I'm bringing hunks of it to friends and family immediately!!
Ingredients
Cake:
1 cup buttermilk
1 teaspoon baking soda
1 stick butter, softened
1 cup vegetable oil
2 cups sugar
5 eggs, separated
3 teaspoons vanilla
1 cup sweetened flaked coconut
1 teaspoon baking powder
2 cups all purpose flour
Frosting:

3 8-ounce packages cream cheese, softened
1 stick butter, softened
2 teaspoons vanilla
1 2-lb package powdered sugar (I used less according to my taste)
1 cup chopped pecans
1 1/2 cups sweetened flaked coconut
Directions:
Preheat oven to 350 degrees. Grease and flour three 9-inch round cake pans.
Beat egg whites until stiff. Set aside.
In a large bowl, cream together butter, oil, and sugar until light and fluffy. Mix in the egg yolks, vanilla, and coconut.
In a separate bowl, mix flour, baking soda, and baking powder.
Alternate adding buttermilk and dry ingredients to wet ingredients.
Mix until just combined, then fold in egg whites.
Pour evenly into the three prepared pans.
Bake in preheated oven for 25 to 30 minutes, or until toothpick comes out clean.
Remove from oven and allow to cool for 15 minutes, then turn the cakes out onto cooling racks and allow to cool completely.
To make the frosting:
In a medium bowl, combine cream cheese, butter, vanilla, and powdered sugar.
Beat until light and fluffy.
Stir in chopped pecans and coconut.
Spread between layers, sides, and top of the cake using an offset spatula.
This step is optional, but I toasted some extra coconut (in a single layer on a parchment lined baking sheet in 350 degree oven for 10 minutes or so until lightly browned) and dressed up the sides of the cake.
I suggest storing the cake in the refrigerator until ready to serve, then take it out about an hour before to allow the frosting to soften a bit.