This cheesecake is even more delicious than it sounds. Recipe is adapted from Pecan Pie Cheesecake in the 2009 Special Issue of Southern Favorites Taste of the South magazine. I had some pumpkin left over from another recipe and thought it would make a great addition to this cheesecake!
Ingredients
Crust
1 3/4 cups graham cracker crumbs
1/4 cup firmly packed brown sugar
1/3 cup butter, melted
Pecan Pie Filling
1 cup sugar
1/3 cup dark corn syrup
1/3 cup butter, melted
2 large eggs
1 1/2 cups chopped pecans
1 teaspoon vanilla extract
Cheesecake Filling
3-8 oz. packages cream cheese, room temperature
1 cup firmly packed brown sugar
1/4 cup white sugar
3 tablespoons flour
4 large eggs
2/3 cup heavy whipping cream
8 oz. pumpkin puree
1 teaspoon vanilla extract
Directions
Preheat oven to 350 degrees. (Note oven temperature change later in the recipe)
Spray or grease bottoms and sides of a 9″ springform pan and wrap the bottom with aluminum foil (optional step but it protects against leaks in the oven.)
Assemble the crust: In a medium bowl, combine graham cracker crumbs, sugar, and melted butter until incorporated. Press into the bottom and slightly up the sides of the pan. Bake for 6 minutes. Remove from the oven and let cool.
Prepare pecan filling: In a medium saucepan, combine all ingredients and set over medium heat until mixture comes to a boil, stirring constantly. Reduce heat to low and simmer until thick and syrupy, approximately 8 minutes, again stirring constantly. Remove from heat and allow it to cool slightly, 5 minutes or so. Pour the pecan  filling over the baked crust and set aside.
Lower oven temperature to 325 degrees.
Make the cheesecake filling: In the bowl of a stand mixer, add cream cheese and beat until creamy. Add brown sugar, white sugar, and flour, beating until fluffy. Add in eggs one at a time, beating well to incorporate after each addition and scraping the bowl often. Next, add whipping cream, pumpkin puree, and vanilla extract. Beat until combined.
Pour cheesecake mixture over pecan pie filling.
Bake for 1 hour at 325 degrees. After 1 hour, turn oven off and leave the cheesecake in the oven with the door closed for 1 more hour.
Remove from oven and run a knife around the edge of the cheesecake. Do not loosen springform pan yet.
Allow to cool completely and refrigerate at least 4 hours before serving.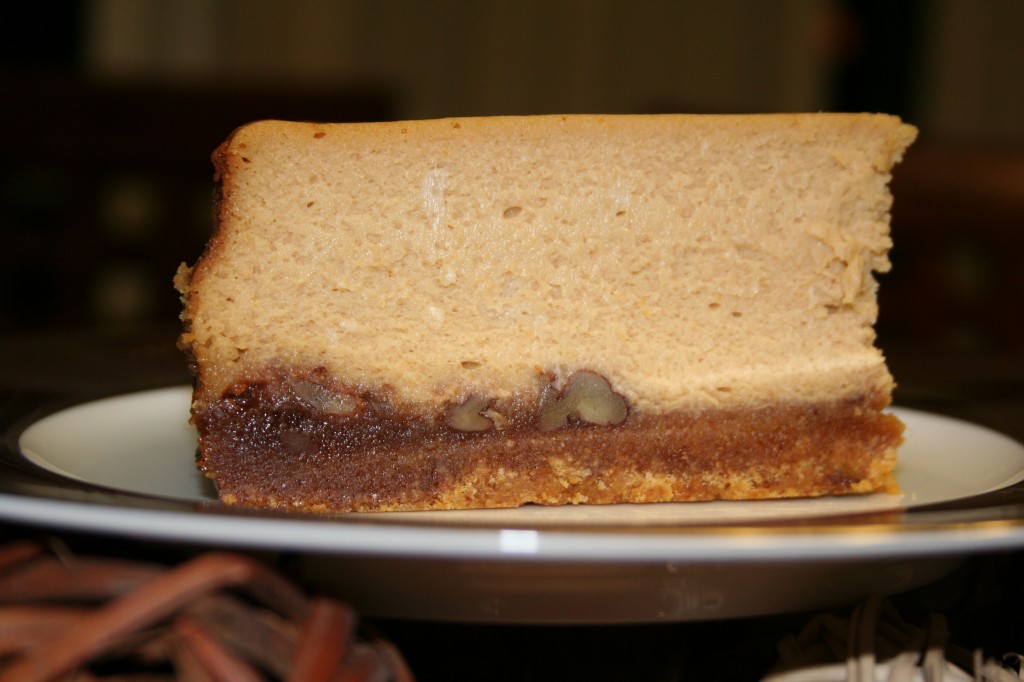 This really is SO good. Maybe it's because I haven't had cheesecake in a while, but this pumpkin pecan pie cheesecake hit the spot! The pecan filling sort of seeps into the crust, making a crunchy almost candy/cookie type crust. The cheesecake is creamy with a hint of pumpkin. It's going to be on my Thanksgiving menu for sure! And despite all the sugar it's not overly sweet, like pecan pie can be sometimes.