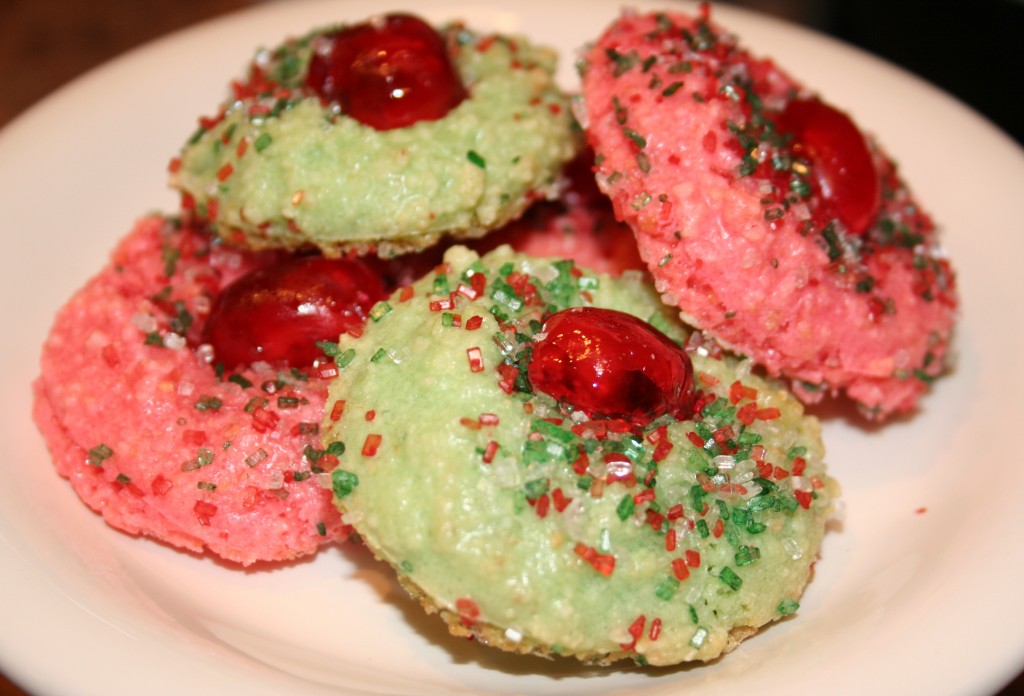 A family friend recently shared her recipe for Amaretti cookies. They're a chewy, almond flavored sweet cookie made from very few ingredients. The recipe has a slight twist to it–you let the cookies firm up overnight, uncovered, before baking.
Ingredients
1 cup blanched almonds
1 cup sugar
2 egg whites
1/2 tsp Almond Extract
Crystallized sugar
Candied Cherries
Directions
Dry blanched almonds thoroughly by placing them in a warm oven (350 degrees) for 5 to 10 minutes.  Grind as fine as possible, until powdery, while still warm.
Combine ground almonds and sugar in a medium size bowl; add unbeaten egg whites and almond extract; beat thoroughly.
Divide dough into sections.  Add food coloring of your choice. Drop by teaspoonfuls onto cookie sheet lined with parchment paper leaving 1 inch between cookies. Wet fingers with water and smooth into rounds. Sprinkle on crystallized sugar and top off with candied cherries (cut in half).
**Let cookies stand overnight, uncovered until dough hardens**
Bake in moderate oven (375 degrees) for 10-12 minutes.  Remove from oven and let stand for 5 minutes.  Carefully remove cookies with spatula ( if cookie stiffens, put back into oven for a few seconds to soften.)  Store in an airtight container when thoroughly cooled.