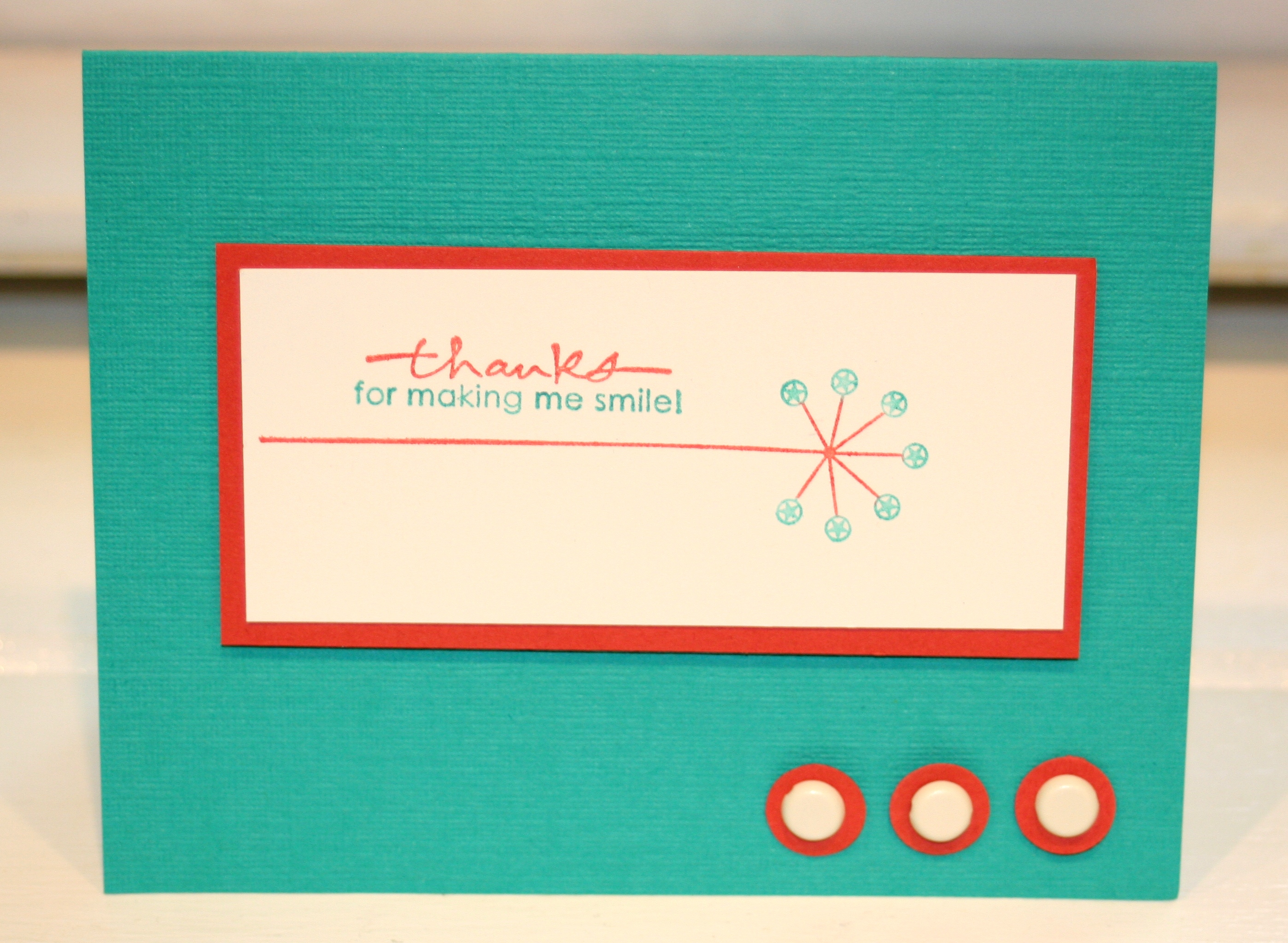 There was a time where I used the set Good Friend way too much. But that's me–I go through phases where I become obsessed with an image and then never use it again. The bird in this set is so absolutely cute I had to force myself to put this stamp to rest and give some face time to the rest of my stamp collection.
Today, I thought it was time to bring the good bird out, but instead of going for my old standby, I chose another image from this set. The strange flower/dandelion type image caught my eye. I colored it with the Dusty Durango and Bermuda Bay marker. Stamped on Very Vanilla card stock. The sentiment is from Small Sayings, and old mini set from 2006/2007 (and one of the first orders I placed as a customer). I also inked that one up with the Dusty Durango and Bermuda Bay marker.
The image layer was matted onto a piece of Dusty Durango card stock, which was adhered to the Bermuda Bay Textured card stock base using dimensionals.
To finish off the card, I punched out some 1/4″ circles from Dusty Durango card stock using the 1/4″ Circle Punch and popped in 3 Very Vanilla Jumbo Basic 5/16″ Brads. Since the ends of the brad overhang the circles, I snipped off the ends using my Craft and Rubber Scissors–this is a great tip! Those were adhered to the card using a small glue dot.
Honestly, this is a very plain card by my standards, but for some reason it pops more than I thought it would. It would make a good project for a class or workshop because it gets customers using lots of different products and yet takes very little time.  (Markers, brads, stamps, craft & rubber scissors, dimensionals, glue dots, textured card stock, in colors)