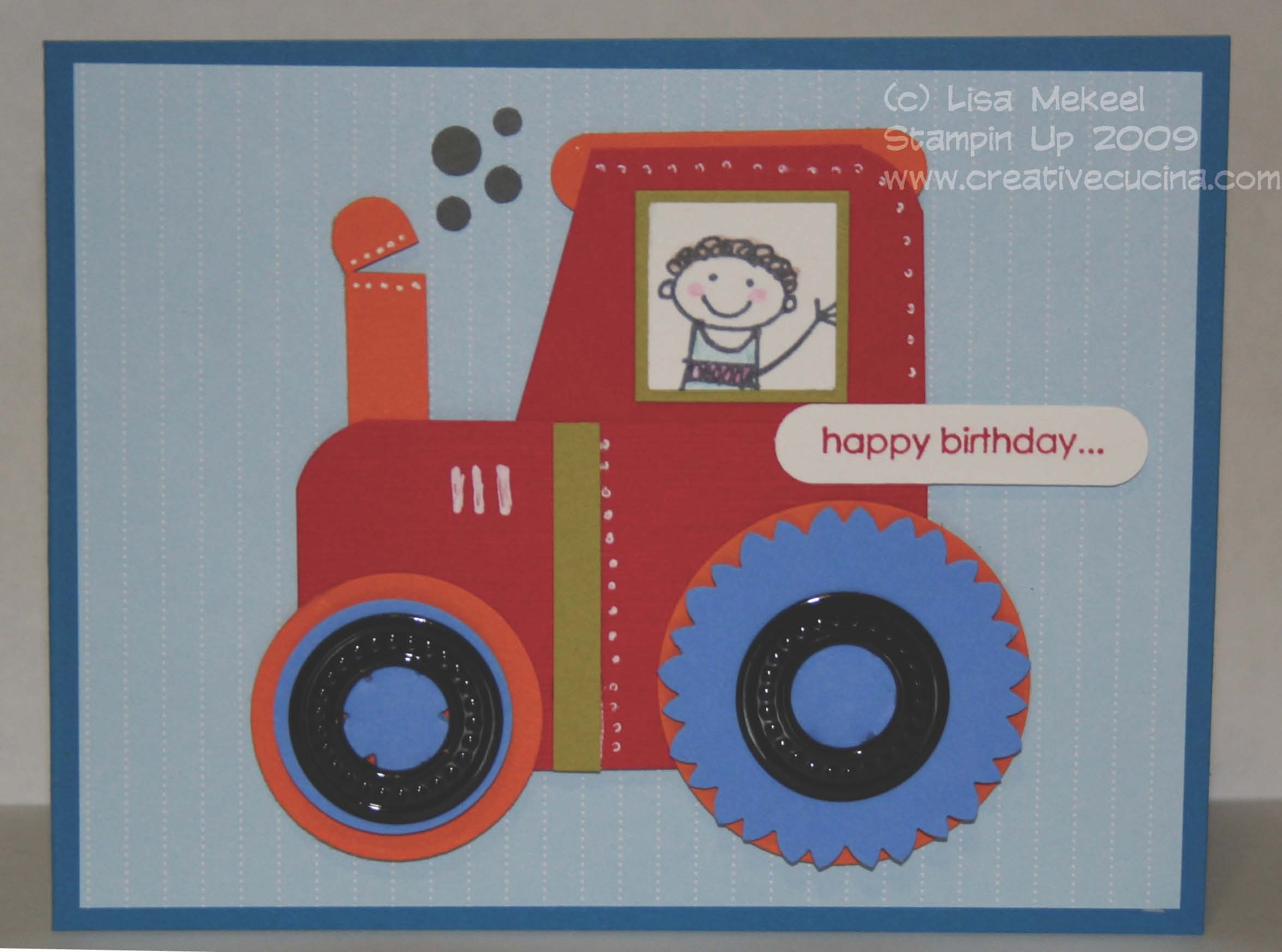 There are several cute cards out there using punches to make a tractor, and that is what inspired me. In addition, the wrapping paper I bought for the birthday boy inspired this particular tractor's colors and style.
Card base is Pacific Point (last year's In Color that I never seemed to use–at least I'm getting some good out of it now!) I layered it with some Bashful Blue DSP from the 6″x6″ Prints Pack.
The tractor body was made with Real Red Textured card stock, which I turned over to use the slightly more smooth side. I cut a rectangle and rounded the left top edge with the Corner Rounder Punch. The cab portion was made by cutting a Real Red square, rounding the top right corner with the Corner Rounder Punch and cutting the left corner on a diagonal.
Pumpkin pie card stock punched with the Word Window Punch makes up the exhaust pipe and hood detail. I cut the tip of the exhaust pipe with scissors almost all the way, and raised it to look like it's opening up to let out smoke. A small piece of dimensional keeps the flap open when adhered to the card. The smoke is Basic Gray card stock circles which I cut using the Fiskars Swiss Cheese Edge Punch.
I stamped the boy from All in the Family in Basic Gray ink on Whisper White, which I punched out using a 7/8″ Square Punch. I colored him in with Watercolor Pencils and Blender Pen. The white square is layered on a 1″x1″ Kiwi Kiss square to make it stand out.
The body of the tractor has some white accents, which I made using the Signo Gel Pen. The large tire was made using a 1 3/4″ Circle Punch of Pumpkin Pie, layered with a Scallop Circle Punch of Ballet Blue card stock. I punched the scallop circle first, adhering it temporarily to a piece of computer paper. Then, I lined up the punch again by putting the points in the center of each scallop. Punch again and you get the "toothy" effect shown here. A Black Jumbo Grommet was poked through the center of the Ballet Blue tire and then adhered to the Pumpkin Pie circle using dimensionals. The tire was then attached to the tractor using SNAIL. The smaller tire was made using 1 3/8″ Circle Punch pumpkin pie card stock layered with 1 1/8″ Circle Punch Ballet Blue with another Black Jumbo Grommet in the center.
The sentiment is from Goody Goody Gumdrops and I just inked up the words I needed with my Real Red Marker, stamped on Whisper White and punched it out using the Word Window Punch. It's adhered to the card using dimensionals.